HOW CLOSE DOES A MOTORCYCLE HAVE TO BE BEFORE YOU SEE IT?
Passenger and Commercial vehicle drivers should remember the following:
Motorcycles are vehicles with the same rights and privileges as any vehicle on the roadway.
Allow the motorcyclist a full lane width. Do not share the lane.
Preliminary 2019 data shows 15% of all 2019 Missouri fatal crashes involved a motorcycle.
In 2019, 121 motorcyclists were killed in traffic crashes on Missouri roadways.
Stats & Facts
79 Percent
Of 2018 motorcycle crashes resulted in the injury or death.
99 Percent
Of the people who died in 2018 motorcycle related crashes on Missouri roads were the motorcycle riders.
49 Percent
Of all motorcycles involved in 2018 Missouri fatal crashes collided with another motor vehicle in transport.
38 Percent
Increase in the likelihood of death if a rider is not wearing a helmet.
Be a Highway Hero.
Watch for Motorcycles. 
Motorcycle Awareness Month.
Watch for Motorcycles. 
 Look Twice for Motorcyclists
Motorcycle Awareness
Download Campaign Materials
Additional Resources
UCLA Study on Helmet Law

Helmet Laws and Tax Dollars

Why Helmets Should be Law
Image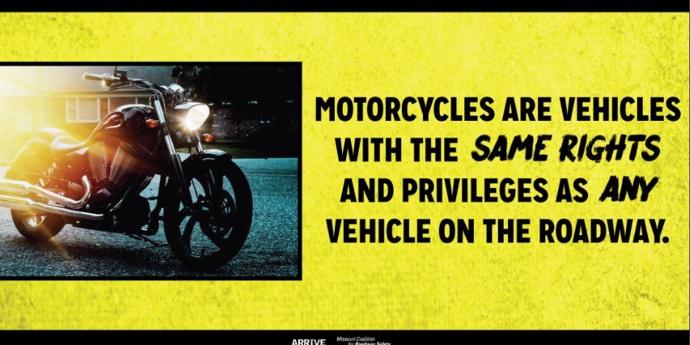 Motorcycle Note
Missouri law requires all motorcycle riders to wear a DOT-compliant helmet.
It's important to raise awareness of the dangers to pedestrians, and provides leadership, expertise, and resources to Missourians to reduce deaths and injuries in these crashes. 
According to NHTSA, a crash on a road with a speed limit of 65 mph or greater is more than twice as likely to result in a fatality than a crash on a road with a speed limit of 45 or 50 mph and nearly five times as likely as a crash on a road with a...